Anfield Resources Inks Deal to Acquire Shootaring Canyon Uranium Mill and Conventional Uranium Assets
VANCOUVER, BRITISH COLUMBIA--TNW-ACCESSWIRE--August 18, 2014
--Anfield Resources Inc. (
TSX.V: ARY
)(
OTCQB: ANLDF
) ("
Anfield
" or "the
Company
") is thrilled to announce that it has entered into definitive agreements with Uranium One to acquire the Shootaring Canyon uranium mill (the "Shootaring Mill") located in Garfield County, Utah, and a portfolio of conventional uranium assets containing a historical estimate of U3O8 resource of 6.8 million poundsi (see Table 1 below). The properties, located in Utah, Arizona and South Dakota increase Anfield's uranium asset acreage by more than 250%. The deal, which is valued at five million US dollars, will be settled over a period of up to four years with a combination of cash and shares.
To hear further details of this acquisition and overall information on Anfield Resources on MarketRadio.ca, click here;
This transaction provides a number of strategic advantages to Anfield, including:
-Potential creation of one of the very few uranium producers in the U. S.

-Shootaring Canyon Mill is one of only three licensed uranium mills in the United States, reflecting its scarcity value.

-The establishment of Anfield as one of the largest owners of uranium properties in the U.S.

-Increases Anfield's uranium asset acreage by more than 250% to reach approximately 65,500 acres (~26,507 hectares).

-Adds a historical estimate of U3O8 resource of 6.8 million pounds.

-The flagship resource, the Velvet-Wood Deposit, contains a historical resource estimate of 4.63 million pounds of measured and indicated U3O8 at an average grade of 0.285%.ii

-Past production at Velvet-Wood recovered 4 million pounds at an average grade of 0.46% U3O8.iii

-The location of the acquired assets is positive from a production perspective

-The geographical position of both the Shootaring Mill and the acquired uranium properties are within one of the historically most prolific uranium production areas in the U. S.

-Anfield's uranium holdings, which include past producing mines, lie within a 125-mile radius of the Shootaring Mill.

-The control over the production process from mining to production of yellowcake offers both operational synergies and capital efficiencies.

-The ability to address the U.S. uranium deficit;

-Domestic consumption of 57 million pounds of U3O8 per yeariv versus domestic production of only 4.6 million pounds of U3O8 per year.v
Anfield's CEO Corey Dias commented: "We are extraordinarily excited about this acquisition as it is transformational for the Company. With the acquisition of one of only three licensed and permitted uranium mills in the United States, we have significantly accelerated our timeline with regard to becoming a uranium producer. The mill is currently in good condition as it has been on continuous care and maintenance since it ceased operations. Finally, with the recent positive news with regard to Japan's steps towards restarting two of its nuclear reactors, we are confident that uranium will continue to play a significant role in the energy sector both today and into the future."
The Shootaring Canyon mill, located approximately 48 miles (77 kilometers) south of Hanksville, Utah, is a conventional acid-leach facility that is permitted to process up to 750 tonnes of ore per day, with a capacity to process up to 1,000 tonnes per day. The mill was built in 1980 and during its period of operation it produced and sold 27,825 pounds of U3O8.vi The mill ceased operations in 1982 due to the depressed price of uranium, and has since been kept on care and maintenance. The surface stockpiles at the facility include a historical estimate of 250,000 pounds of U3O8 at an average grade of 0.13% U308.vii
The portfolio of conventional uranium assets encompasses approximately 48,000 acres (~19,425 hectares) and consists of: 1) 12 patented mining claims; 2) 1,748 unpatented mining claims in Utah and Arizona; and 3) 17 State mining leases in Utah, Arizona and South Dakota. The portfolio also includes a historical estimate of measured and indicated mineral resource of 6.8 million pounds of U3O8 grading approximately 0.19% U3O8. Finally, surface stockpiles contain uranium ore with a historical mineral resource estimate of approximately 165,000 pounds of U3O8 grading 0.09% U3O8.viii
The most advanced asset in this portfolio is the Velvet-Wood deposit. Between 1979 and 1984 approximately 400,000 tons of ore were mined from the Velvet deposit at grades of 0.46% U3O8 and 0.64% V2O5 (recovering approximately 4 million pounds of U3O8 and 5 million pounds of V2O5).ix Some underground infrastructure is already in place at the Velvet mine including a 3,500 ft long, 12' x 9' decline to the ore body. The remaining historical mineral resources of the combined Velvet and Wood mines have been estimated to comprise 4.6 million pounds of U3O8 at a grade of 0.285% U3O8 (measured and indicated resource) and 638,500 pounds of U3O8 at a grade of 0.173% U3O8 (inferred resource).x
Other acquired uranium assets include the Frank M deposit, located approximately 12 km north of the mill, with a historical mineral resource estimate of 2.2 million pounds of U3O8 at a grade of 0.101% U3O8.xi Also included are the Wate and Findlay Tank Breccia Pipes in northern Arizona. Approximately 1.4 million pounds of the historical resource estimates are attributable to Uranium One's interest in these two breccia pipes (see Table 1). Importantly, the grade of mineralization at these breccia pipe deposits is typically higher than other U. S. deposits (in this case 0.76% U3O8 and 0.23% U3O8 respectively).xii
All historical resources referenced in this report are from technical reports prepared by well-known mineral exploration and mining consulting firms using current CIM standards and terminology (see Table 2). The Company intends to work with the same groups to complete the reports such that they comply with all requirements of NI 43-101.
The table below summarizes the historical estimate of U3O8 resources present at these properties: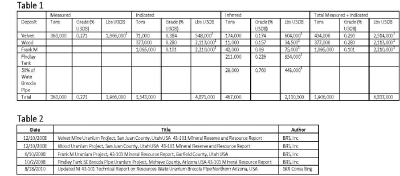 Click Image To View Full Size
The Company executed definitive agreements with Uranium One to acquire the assets upon the following terms: 1) Anfield will issue to Uranium One the equivalent of US$1,000,000 in Anfield Shares upon Closing; and 2) Anfield will make cash payments to Uranium One of US$4,000,000, with US$2,000,000 to be paid upon the earlier of July 1, 2017 or the restart of Commercial Production at the mill (defined as the Shootaring mill operating for 60 consecutive days at 60% of capacity, or 450tpd), and US$2,000,000 to be paid upon the earlier of July 1, 2019 or twenty four months following the restart of Commercial Production at the mill.
The Company also agrees to make cash deposits to replace the long-term government reclamation bonds that are currently in place over the mill as a surety. A US$5,000,000 deposit will be made to the current bond-providing institution at Closing, and within twenty four months following Closing the Company will make an additional deposit to cover the remaining amount of the reclamation bonds.
Contemporaneous with this agreement, Anfield, Uranium One and U.S. Energy have entered into an Amended Assignment and Assumption Agreement whereby Anfield will assume the obligations of Uranium One relative to Uranium One's agreements with U.S. Energy under revised terms negotiated between Anfield and US Energy. These terms state that: 1) Anfield will, upon Closing, issue US$2.5 million in Anfield shares to US Energy, to be held in escrow and released over a period of 36 months from Closing; 2) Anfield will make cash payments of US$5 million in two tranches of US$2.5 million, with the first following 18 months of Commercial Production and the second following 36 months of Commercial Production. The acquisition is subject to regulatory approval.
Disclaimer: Anfield is not treating the historical estimate as current mineral resources or mineral reserves. A qualified person has not done sufficient work to classify the historical estimate as current mineral resources or mineral reserves.
About Anfield Resources Inc.
Anfield is a publicly traded corporation listed on the TSX-Venture Exchange (ARY-V) and is engaged in mineral exploration, development and production in the United States and Chile. Its focus is on acquiring and developing an array of strategic mineral projects that are summarized below:
Anfield's uranium assets include mining claims and state leases in southeastern Utah, Colorado and Arizona totalling over 17,500 acres (7,082 hectares), targeting areas where past uranium mining or prospecting occurred within a potential shipping radius to the White Mesa Mill, the only operating conventional uranium mill in the US.
The Binghampton Copper Queen (BCQ) project, located 17 miles (27 km) southeast of Prescott, Arizona, and within the Arizona VMS Belt, consists of 5,021 acres (2,032 hectares) of both patented and State land, with two past-producing mines on the property.
The North Star Copper Project, located less than 50 miles (80 km) northwest of Tucson, consisting of 200 mining claims covering approximately 4,000 acres (1,619 hectares), targets relatively shallow oxide copper at the historic North Star site in the heart of copper country in southern Arizona.
The Aura Project, a nascent copper operation in Atacama, Chile, is located 20 miles (32 km) east of Copiapo and consists of eight mining concessions totalling over 2,800 acres (1,133 hectares) in one of the foremost copper producing regions in the world.
R. Tim Henneberry, P.Geo., Advisor to Anfield is the Qualified Person as defined in National Instrument 43-101, who has reviewed and approved the technical content of this news release.
On behalf of the Board of Directors
ANFIELD RESOURCES INC.

Corey Dias, Chief Executive Officer
Neither TSX Venture Exchange nor its Regulation Services Provider (as that term is defined in the policies of the TSX Venture Exchange) accepts responsibility for the adequacy or accuracy of this release.

Contact:
Anfield Resources Inc.
Clive Mostert
Corporate Communications
780-920-5044
cmostert@telus.net
Safe Harbor Statement
THIS NEWS RELEASE CONTAINS "FORWARD-LOOKING STATEMENTS". STATEMENTS IN THIS NEWS RELEASE THAT ARE NOT PURELY HISTORICAL ARE FORWARD-LOOKING STATEMENTS AND INCLUDE ANY STATEMENTS REGARDING BELIEFS, PLANS, EXPECTATIONS OR INTENTIONS REGARDING THE FUTURE.
EXCEPT FOR THE HISTORICAL INFORMATION PRESENTED HEREIN, MATTERS DISCUSSED IN THIS NEWS RELEASE CONTAIN FORWARD-LOOKING STATEMENTS THAT ARE SUBJECT TO CERTAIN RISKS AND UNCERTAINTIES THAT COULD CAUSE ACTUAL RESULTS TO DIFFER MATERIALLY FROM ANY FUTURE RESULTS, PERFORMANCE OR ACHIEVEMENTS EXPRESSED OR IMPLIED BY SUCH STATEMENTS. STATEMENTS THAT ARE NOT HISTORICAL FACTS, INCLUDING STATEMENTS THAT ARE PRECEDED BY, FOLLOWED BY, OR THAT INCLUDE SUCH WORDS AS "ESTIMATE," "ANTICIPATE," "BELIEVE," "PLAN" OR "EXPECT" OR SIMILAR STATEMENTS ARE FORWARD-LOOKING STATEMENTS. RISKS AND UNCERTAINTIES FOR THE COMPANY INCLUDE, BUT ARE NOT LIMITED TO, THE RISKS ASSOCIATED WITH MINERAL EXPLORATION AND FUNDING AS WELL AS THE RISKS SHOWN IN THE COMPANY'S MOST RECENT ANNUAL AND QUARTERLY REPORTS AND FROM TIME-TO-TIME IN OTHER PUBLICLY AVAILABLE INFORMATION REGARDING THE COMPANY. OTHER RISKS INCLUDE RISKS ASSOCIATED WITH THE REGULATORY APPROVAL PROCESS, COMPETITIVE COMPANIES, FUTURE CAPITAL REQUIREMENTS AND THE COMPANY'S ABILITY AND LEVEL OF SUPPORT FOR ITS EXPLORATION AND DEVELOPMENT ACTIVITIES. THERE CAN BE NO ASSURANCE THAT THE COMPANY'S EXPLORATION EFFORTS WILL SUCCEED AND THE COMPANY WILL ULTIMATELY ACHIEVE COMMERCIAL SUCCESS. THESE FORWARD-LOOKING STATEMENTS ARE MADE AS OF THE DATE OF THIS NEWS RELEASE, AND THE COMPANY ASSUMES NO OBLIGATION TO UPDATE THE FORWARD-LOOKING STATEMENTS, OR TO UPDATE THE REASONS WHY ACTUAL RESULTS COULD DIFFER FROM THOSE PROJECTED IN THE FORWARD-LOOKING STATEMENTS. ALTHOUGH THE COMPANY BELIEVES THAT THE BELIEFS, PLANS, EXPECTATIONS AND INTENTIONS CONTAINED IN THIS NEWS RELEASE ARE REASONABLE, THERE CAN BE NO ASSURANCE THOSE BELIEFS, PLANS, EXPECTATIONS OR INTENTIONS WILL PROVE TO BE ACCURATE. INVESTORS SHOULD CONSIDER ALL OF THE INFORMATION SET FORTH HEREIN AND SHOULD ALSO REFER TO THE RISK FACTORS DISCLOSED IN THE COMPANY'S PERIODIC REPORTS FILED FROM TIME-TO-TIME.
THIS NEWS RELEASE HAS BEEN PREPARED BY MANAGEMENT OF THE COMPANY WHO TAKES FULL RESPONSIBILITY FOR ITS CONTENTS. THIS NEWS RELEASE SHALL NOT CONSTITUTE AN OFFER TO SELL OR THE SOLICITATION OF AN OFFER TO BUY NOR SHALL THERE BE ANY SALE OF THESE SECURITIES IN ANY JURISDICTION IN WHICH SUCH OFFER, SOLICITATION OR SALE WOULD BE UNLAWFUL PRIOR TO REGISTRATION OR QUALIFICATION UNDER THE SECURITIES LAWS OF ANY SUCH JURISDICTION.
The Traders Digest was not compensated for posting this news item.
PLEASE NOTE: thetradersdigest.blogspot.com and its employees are not a Registered Investment Advisor, Broker Dealer or a member of any association for other research providers in any jurisdiction whatsoever.