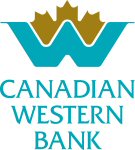 August 27, 2014 17:56 ET
CWB Reports Record Quarterly Earnings
Common Share Dividend of $0.20 per Share Declared, Up 11% Over the Dividend Declared a Year Earlier
Quarterly Dividend Declared on Series 5 Preferred Shares
EDMONTON, ALBERTA--(Marketwired - Aug. 27, 2014) -
Canadian Western Bank (TSX:CWB) (CWB) -
Third Quarter 2014 Highlights1
(compared to the same period in the prior year)
Record net income available to common shareholders of $56.6 million, up 19%.
Record diluted earnings per common share of $0.70, up 17%, and adjusted cash earnings per common share of $0.71, up 16%.
Record total revenues, on a taxable equivalent basis (teb)1, of $159.8 million, up 11%.
Strong loan growth of 3% in the quarter, 10% year-to-date and 12% over the past twelve months.
Net interest margin (teb) of 2.58%, compared to 2.59% in the previous quarter and 2.70% last year.
Solid Basel III regulatory capital ratios using the Standardized approach for calculating risk-weighted assets of 8.0% common equity Tier 1 (CET1), 9.3% Tier 1 and 12.9% total ratio.
Surpassed $20 billion of total balance sheet assets.
Read The Full Story At:
http://www.marketwired.com/printer_friendly?id=1942168