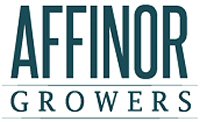 Affinor Growers Closes Acquisition of Vancouver Rooftop Growing Facility and Intellectual Property
MONTREAL, CANADA--(Marketwired - Sept. 11, 2014) -
Affinor
(CSE:AFI)(OTCQB:RSSFF)(FRANKFURT:1AF) ("Affinor" or the "Corporation) has closed the deal of previously LOI announced on July 11, 2014 and
acquire all the assets
of 0993341 "BC" Ltd related to the operation of the
Vancouver rooftop growing facility
, located at 523/535 Richards Street, in Vancouver BC. The IP from this acquisition is very important to Affinor and will be useful to develop pharmaceutical and marijuana production aspects in United States and Canada.
This acquisition will also allow Affinor to retrofit the facility and start
growing baby greens
using this
new vertical farming technology
. Affinor Growers will now be able to fast track operations and put fresh food and pesticide free on the shelf in Vancouver and demonstrate viability to the market adding yet another potentially, high-margin revenue stream.
This is also a great opportunity for the
City of Vancouver
to continue their vision of growing fresh urban food.
The Vancouver Food Strategy
has a plan to create a sustainable food system for the city, which builds on years of food systems considering all aspects from seed to table to compost heap. Affinor is excited to participate in Vancouver's goal to
become the "greenest" city by 2020.
Executive Chairman Nick Brusatore, comments: "I am very please with this acquisition as it is a very important move for Affinor to have vertical farming equipment as we enter into the pharmaceutical, neutraceutical and marijuana market in Washington."
About Affinor Growers Inc.
Affinor Growers
is a diversified publicly traded company on the Canadian Securities Exchange under the symbol ("AFI"). Affinor is focused on growing high quality crops such as romaine lettuce, spinach, strawberries and high quality medical Marijuana. Affinor is committed to becoming a pre-eminent grower, using exclusive vertical farming techniques.
On Behalf of the Board of Directors
AFFINOR GROWERS INC.
"Sebastien Plouffe"
President & CEO
The CSE has not reviewed and does not accept responsibility for the adequacy or accuracy of this release.
FORWARD LOOKING INFORMATION
This News Release contains forward-looking statements. The use of any of the words "anticipate", "continue", "estimate", "expect", "may", "will", "project", "should", "believe" and similar expressions are intended to identify forward-looking statements. Although the Company believes that the expectations and assumptions on which the forward-looking statements are based are reasonable, undue reliance should not be placed on the forward-looking statements because the Company can give no assurance that they will prove to be correct. Since forward-looking statements address future events and conditions, by their very nature they involve inherent risks and uncertainties. These statements speak only as of the date of this News Release. Actual results could differ materially from those currently anticipated due to a number of factors and risks including various risk factors discussed in the Company's disclosure documents which can be found under the Company's profile on
www.sedar.com
. This News Release contains "forward-looking statements" within the meaning of Section 27A of the Securities Act of 1933, as amended, and Section 21E the Securities Exchange Act of 1934, as amended and such forward-looking statements are made pursuant to the safe harbor provisions of the Private Securities Litigation Reform Act of 1995.
Contact Information
Contact Information
Sebastien Plouffe
President & CEO
(514) 947-2272
splouffe@affinorgrowers.com
http://www.affinorgrowers.com/en
Contact Information, spokesperson
Affinor Growers
Nick Brusatore, Executive Chairman
(604) 356-0411
nbrusatore@gmail.com