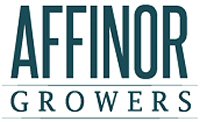 Affinor Growers: Construction Permit Approved to Build Strawberries Greenhouse in Saint-Chrysostome, Quebec
MONTREAL, CANADA--(Marketwired - Oct. 16, 2014) -
Note to editors: An image is included with this press release on Marketwire's website.
Affinor Growers (CSE:AFI)(FRANKFURT:1AF)(OTCQB:RSSFF)
("Affinor" or the "Corporation) announced today that the City of St-Chrysostome, Quebec, has approved the construction of the Strawberries Greenhouse on Affinor property in the Province of Quebec. This will be the first of its kind and it will supply organic, non-GMO, strawberries and other crops grown without pesticides to Eastern Canada and the Eastern seaboard of the United States. The unique structure of this facility is designed to increase efficiency by a 10 - 12 timer per square meter of that of any traditional greenhouse design and will be located on 45 acres of agricultural land in Saint-Chrysostome, in the regional county municipality of Haut-Saint-Laurent in the Montérégie administrative region of the Province of Quebec. The greenhouse will include a state-of-the-art, 40m x 40m, 4 bay, fully diffused growing area and a 20m x 40m, 2 bay auxiliary facility, for the propagation, packaging, storage and shipping of high quality produce, specifically strawberries.
"This is a significant milestone for Affinor, and I would like to give my highest appreciation to the City of St-Chrysostome, along with the Affinor design team for their efforts and cooperation in reaching this achievement. The construction is beginning today. We look forward to continuing with this flagship project, which shall bring significant benefit to Quebec. "
said Sebastien Plouffe, President & CEO of Affinor.
About Affinor Growers Inc.
Affinor Growers
is a diversified publicly traded company on the Canadian Securities Exchange under the symbol ("AFI"). Affinor is focused on growing high quality crops such as romaine lettuce, spinach, strawberries and high quality medical Marijuana. Affinor is committed to becoming a pre-eminent grower, using exclusive vertical farming techniques.
On Behalf of the Board of Directors
AFFINOR GROWERS INC.
"Sebastien Plouffe"
President & CEO
The CSE has not reviewed and does not accept responsibility for the adequacy or accuracy of this release.
FORWARD LOOKING INFORMATION
This News Release contains forward-looking statements. The use of any of the words "anticipate", "continue", "estimate", "expect", "may", "will", "project", "should", "believe" and similar expressions are intended to identify forward-looking statements. Although the Company believes that the expectations and assumptions on which the forward-looking statements are based are reasonable, undue reliance should not be placed on the forward-looking statements because the Company can give no assurance that they will prove to be correct. Since forward-looking statements address future events and conditions, by their very nature they involve inherent risks and uncertainties. These statements speak only as of the date of this News Release. Actual results could differ materially from those currently anticipated due to a number of factors and risks including various risk factors discussed in the Company's disclosure documents which can be found under the Company's profile on
www.sedar.com
. This News Release contains "forward-looking statements" within the meaning of Section 27A of the Securities Act of 1933, as amended, and Section 21E the Securities Exchange Act of 1934, as amended and such forward-looking statements are made pursuant to the safe harbor provisions of the Private Securities Litigation Reform Act of 1995.
To view the image accompanying this press release, please visit the following link:
http://media3.marketwire.com/docs/973347_Affinor_SG.jpg
.
Contact Information
Sebastien Plouffe
President & CEO
(514) 947-2272
splouffe@affinorgrowers.com
www.affinorgrowers.com
Contact Information, spokesperson
Nick Brusatore, Executive Chairman
(604) 356-0411
nbrusatore@gmail.com